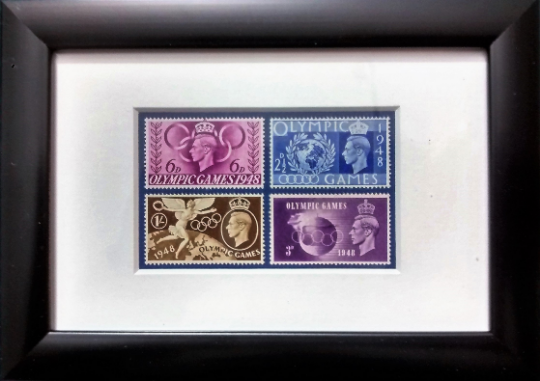 Olympic Games Stamps Framed 1948
Olympic games genuine mint framed stamps from 1948 make a great collectible gift. The stamps show The Globe with Olympic Rings, The Globe Surrounded by a Laurel Wreath, Winged Victory and Olympic Rings and the Olympic Rings.
The games, held in London were the first Summer Olympics for 12 years as the 2nd World War had prevented the games being held since 1936. The games officially known as the XIV Olympiad were opened by King George 6th and Queen Elizabeth (Queen Mum) and were a fairly quiet event compared to today's games since post war rationing continued. In 1948 there were 136 events for 17 sports with 3714 men and 390 women taking part. By comparison at the London 2012 Olympics there were 302 events for 26 sports with 5992 men and 4776 women taking part.