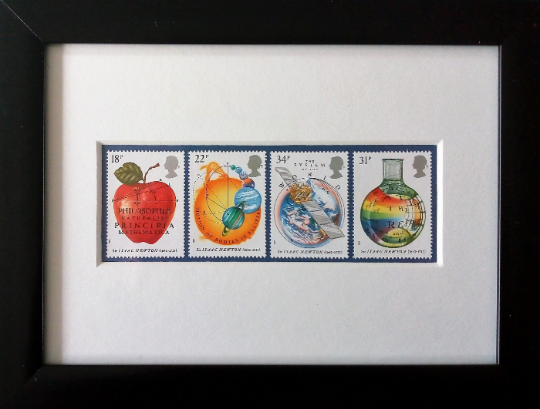 Science framed stamps for maths and physics 1987
These science framed stamps of Newton for maths and physics from 1987 celebrate the 300th Anniversary of the publication of the Principia Mathematica by Sir Isaac Newton. They are beautifully designed stamps which show some of Newton‰۪s greatest discoveries. The stamps illustrate four of his achievements:
The Principia Mathematica' showing an apple (Newton is believed to have found out about gravity when an apple fell on his head.)
The 'Motion of Bodies in Ellipses' showing planets moving round the sun‰Û÷
'Optic Treatise' showing a flask of water and refraction of light
'The System of the world' showing the earth and an artificial satellite.